---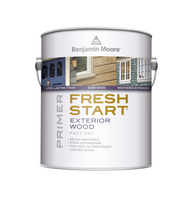 A premium quality exterior primers ensure best results, especially when priming new or previously painted wood and weathered surfaces.
Fresh Start Exterior Wood Primer 094
Features
A premium quality exterior alkyd primer that's perfect for new or previously coated wood, under light color stains and where cedar and redwood bleeding may be encountered.


Exterior alkyd primer with excellent adhesion
Seals uniformly for a smooth appearance prior to topcoat
Fast drying – same day recoat
Data Sheets
SDS
TDS
Fresh Start Moorwhite® Exterior Wood Primer 100
Features
A premium quality exterior wood primer that penetrates deeply into a variety of wood surfaces and dries slowly to enable maximum adhesion even on weathered surfaces.


Premium exterior primer with maximum adhesion
Slow drying
Mildew resistant
Excellent hiding and leveling properties
Data Sheets
SDS
TDS
Fresh Start Multi-Purpose Oil Based Primer 024
Features
A premium quality alkyd primer is a universal favorite when a quality under coater, sealer and stain blocking primer is needed. It can be used over oil or latex paint and performs equally well under all Benjamin Moore architectural finish coats.


Excellent adhesion and sealing for exterior surfaces
Excellent hide
Stain blocker
Data Sheets
SDS
TDS
Fresh Start High-Hiding All Purpose Primer 046
Features
Our highest-performing 100% acrylic primer that delivers maximum hide and ensures uniform finish all surfaces. This is the primer of choice when a significant color change is required.


Excellent all-around stain blocker
Maximum hiding for exterior surfaces
Fast drying
Low VOC
Mildew resistant
Superior adhesion
Engineered with Gennex® Color Technology
Data Sheets
SDS
TDS